HANAblog contacted President Jeff Platt to get some information and perspective on what is happening with the California National Players Boycott. How are things going? How did this past week's meetings go with various players in California? Find out below.
HANABlog: How are things progressing with the National Players Boycott of California Racing?
Jeff: News about the boycott is spreading by word of mouth. Every day more and more players are telling us they support the boycott.

HANABlog: Do you think the boycott is having an impact?
Jeff: Yes. Players are speaking with their wallets. Their willingness to stand up for what they believe in is absolutely showing itself in the handle numbers.

This past Friday, handle at Santa Anita was down almost 30 percent from Friday the same week in January last year. Handle for Saturday was down about 23 percent from Saturday the same week in January last year. Today's (Sunday) handle vs. Sunday from the same week in January last year was down almost 27 percent.

I'm not saying the boycott is responsible for all of that, of course. But those numbers are telling.

HANABlog: You and other HANA members had meetings with California track management last week. What happened? Can you share some details?
Jeff: Sure. Upper management from Santa Anita invited HANA to a meeting that was held at Santa Anita on Sunday January 23, 2011. A representative from the TOC (Thoroughbred Owners of California) was there too.

I thought the meeting was productive overall. We talked about field size, the takeout increase, and the ADW retention cap. We also talked about the importance of having people who are qualified to make decisions about takeout and wagering be the ones making decisions about takeout and wagering going forward. I think they were listening very closely when Associate Professor of Economics at USC and Director of Southern California Horse Rescue Caroline Betts started speaking about the literature and case history that's out there about things like takeout, elasticity, and optimal pricing. They have been studied extensively in the past, and that study could even progress more. She let them know how they might obtain research grants to fund research of their own in those areas.

We also got to know each other a little bit, which is always good. I think upper management at Santa Anita now has a better appreciation for how players are impacted by high takeout than they did before. Also, we came away with a better understanding of how the takeout increase is impacting Santa Anita.

HANABlog: Can you elaborate on that before and after statement? And was there another meeting this week in San Diego?
Jeff:
Sure. Prior to the start of the meet, Santa Anita announced a 25 percent purse increase based on the idea that handle would be unaffected by a takeout increase. The thinking was that handle would remain the same, or maybe go up because of the return to dirt. That didn't happen. Handle at both Santa Anita and Golden Gate is down. At the same time, handle at other tracks like Gulfstream and Tampa Bay Downs is up. We think that is something they did not factor into the mix.
On Monday January 24, 2011, representatives from HANA also met with upper management from Del Mar. That meeting was more informal than the meeting with Santa Anita. But I suspect Del Mar doesn't want to end up in the same box Santa Anita finds itself in.
HANABlog: What type of box is that?
Jeff: Well, Santa Anita is shelling out money for a purse increase based on the idea that handle would stay the same or even go up a little as I mentioned. But handle is down. I think the numbers from this past weekend, if accurate, are telling and might be putting them in a box. If they announce a purse cut, that's an admission the takeout increase was a failure. On the other hand, if they quietly keep paying out money for a purse increase and handle keeps falling, well, that can get expensive.

HANABlog: What has to happen before they are willing to rescind the takeout increase in your view?
Jeff: That's a really interesting question.

The takeout increase was a really bad idea. But I don't think the idea for California's takeout increase came from the tracks. I think it came from the TOC. Sure, once the idea for a takeout increase was floated out there the tracks got behind it.

So yes, in that sense, if customers react negatively to that, the tracks deserve whatever they get.

However, I think there might be at least partial support at this point within track management to rescind the takeout increase. I say that because they reached out to us. They are looking for solutions.

But the tracks can't roll back the takeout increase on their own. California State Law gives power to the CHRB to set takeout rates. My read on the CHRB is that the tracks and the horsemen will have to go in front of the CHRB jointly and ask to have the takeout increase rescinded. If that were to happen, I think there's a very good chance the CHRB would vote to rescind the takeout increase. But the tracks need support from the TOC first before that can happen. I'm not sure the TOC is willing to do that just yet.

HANABlog: What can players do to help who are already not withholding their wagering?


Jeff:
Support the boycott.
Send a clear message by not betting California thoroughbred races. Also, tell other players about the boycott.
I really think the TOC and the CHRB thought players would behave like sheep and just go along with the takeout increase. Clearly that isn't the case.
The boycott is making an impact. It's shining a very public spotlight on racing's decision makers who failed to realize that racing is a customer driven business. The takeout increase was and continues to be a very bad idea. I feel we're getting closer. If enough players stop betting California races the TOC will have no choice but to go before the CHRB, and jointly with the tracks, ask to have the takeout increase rescinded.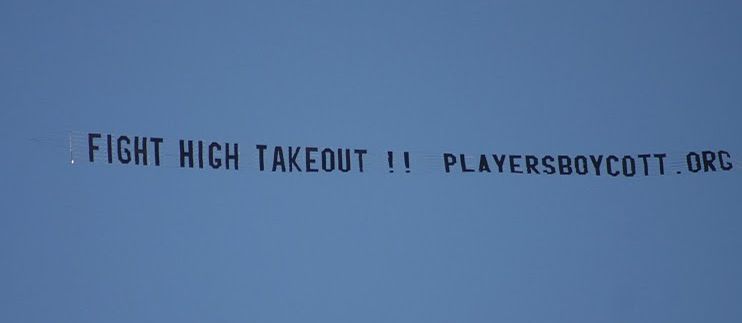 HANAblog: What's next?
Jeff: The ball is in their court. We are just going to continue to work, move ahead with more paid marketing, and relay the message to those who have not already heard about the effort.
HANAblog: Thanks Jeff.
Jeff: You're welcome.