Keeneland was

down approximately $1.2 Million (-20%)

yesterday.
But instead of Keeneland, let's take a look at Kentucky Downs:
http://www.playersboycott.org/handleupdate10122017.html
For those of you who may not be aware, prior to their 2013 meet, Kentucky Downs approached HANA with the idea of lowering their exacta takeout from 19.00% to 18.25%. They asked if we would help promote the decrease in takeout by getting the word out to as many horseplayers as possible.
We thought it was a great idea and were happy to help.
So how did it work out?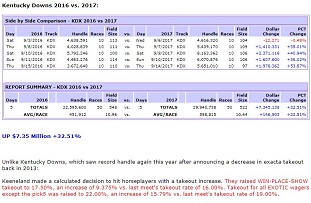 Kentucky Downs has seen record handle in each of the ensuing five years 2013-2014-2015-2016-2017 and has more than tripled their handle in that time.
Keep in mind that this came about by taking the novel approach of asking a horseplayers association to help them promote a three quarter point drop in exacta takeout.
Yesterday a horseplayer asked me: "If there's one thing you could tell Keeneland they need to be doing different what would that be?"
I would tell Keeneland they need to be doing exactly what Kentucky Downs did back in 2013.
--Jeff Platt, HANA President